NSC Partners with Russian University to Launch Rocket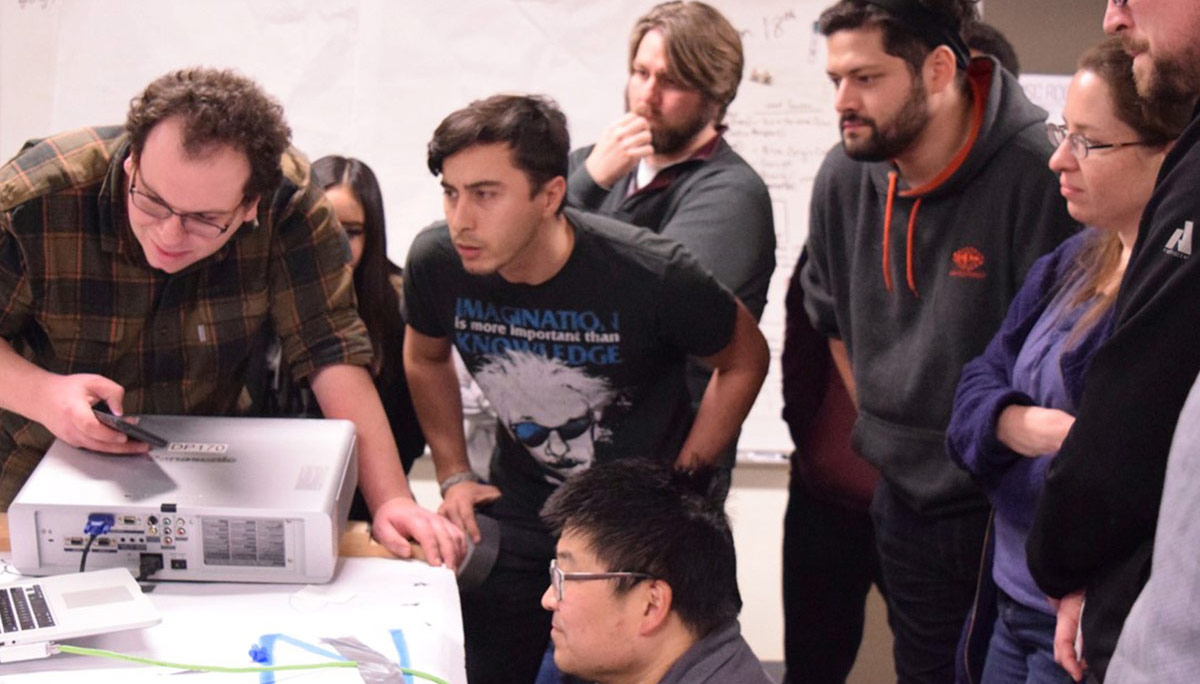 This summer, when students from North Seattle College go to launch a rocket 10,000 feet above the New Mexico desert, they won't be the only ones holding their breath during liftoff. A group of students 4,500 miles away, at Amur State University in Russia, will be watching with anticipation to see if the rocket—built by North students and competing in an international competition—successfully takes off carrying a payload built by the Russian students.
The liftoff will represent the culmination of a months-long learning collaboration between members of North Seattle College's Rocketry Club, and about a dozen students from the Russian university. Their collaboration began earlier this year when the students teamed up for the Intercollegiate Rocket Engineering Competition, the world's largest rocket competition for colleges and universities that's held annually in Las Cruces, New Mexico.
It's just one of the ways North Seattle College is partnering internationally to expand learning opportunities for students and employees. This week, North Seattle College President Warren Brown will travel to Russia to enter a formal partnership between the college and Amur State. The partnership will join existing ones the college has with places like Royal Melbourne Institute of Technology and Kogakuin University.
"At North, we prepare our students to succeed in the global economy," Brown said. "And one way we do that is by creating learning opportunities that expose our students to real-world, hands-on projects that foster cross culture communications and collaborations."
The collaboration with the Royal Melbourne Institute of Technology, for instance, pairs students in North's International Business applied bachelor's program with their Australian student peers to take on real industry projects. Students travel to the host country for an intensive week of work that ends with a pitch to industry partners on business solutions and recommendations.
Brown initiated the partnership with Amur State University after completing a two-week, 10 university, educational seminar in Russia last year as part of his selection for a prestigious Fulbright Scholarship that pairs U.S. and Russian higher education institutions.
Once back, Brown conducted both Seattle District and North Seattle College presentations seeking faculty and programs that were primed for international partnerships. Beyond initiating early virtual learning opportunities between North's physics faculty and their Russian counterparts, Brown also sparked South Seattle College to begin curriculum sharing with another university in Russia.
"We can't simulate this type of learning in the classroom," said North Seattle College Physics Instructor and Rocketry Club Faculty Advisor Tracy Furutani. "Having teams working in different parts of the world and all coming together on one project to share ideas and expertise is how much of our world works today. So having this experience for our students is invaluable."
The partnership is especially invaluable because Russia's next space launch station recently opened just hours from Amur State University and resources are being poured into the university to educate the next-generation of scientists and space explorers.
"Traditionally, the Russians have had an enormous storehouse of knowledge in astronautics and aeronautics, and they're making bigger rockets," Furutani said. "The U.S. has been more focused on exploration, so the two bodies of knowledge on rockets are quite different. In this project, our students are getting to bridge those differences and it's really exciting."
In his role as faculty advisor to North's Rocketry Club, Furutani has facilitated Skype calls and virtual meetings between his students and students at Amur to collaborate on the rocket design. Furutani will travel with Brown to Russia to meet the Amur students in person. While there, he'll lead a virtual meeting with the students and North's Rocketry Club.
To gear up for the June competition, Rocketry Club members are building a 70 lb. rocket and designing it so it can carry a payload built by the students in Russia. The payload, once launched, is a prototype of a space-based payload designed to unfurl a mesh net that could be used to catch space debris, a growing danger and nuisance in space because of its potential to collide with satellites and other spacecraft.
Furutani and Rocketry Club members are also sharing knowledge and tips with the Russian students on how to create their own Rocketry Club.
North's Rocketry Club serves as a strong model. The club has competed in the Intercollegiate Rocket Engineering Competition three years in a row and, in its first year, was one of only three community colleges in the world represented.
North's Rocketry Club members are also annually recognized with NASA space grants, which provide $2,000 scholarships to current STEM students at North who plan to continue on to another institution to complete a four-year STEM degree.
With Boeing and Blue Origin all based here, the Seattle area is a leader in aerospace, Furutani said. And it's an exciting time to be in space, he said.
"All kinds of space companies are coming up, and we have a space industry developing independently of NASA, so it's an exciting time," he said.
But come June 20-21, all the excitement will be watching the U.S.-Russia rocket hopefully propel through the New Mexico sky.
"It's like a real-life drama reality TV show, getting everything ready for the launch and waiting in anticipation for the second it launches," Furutani said.