2023 Graduate Profile: Katlyn Farmer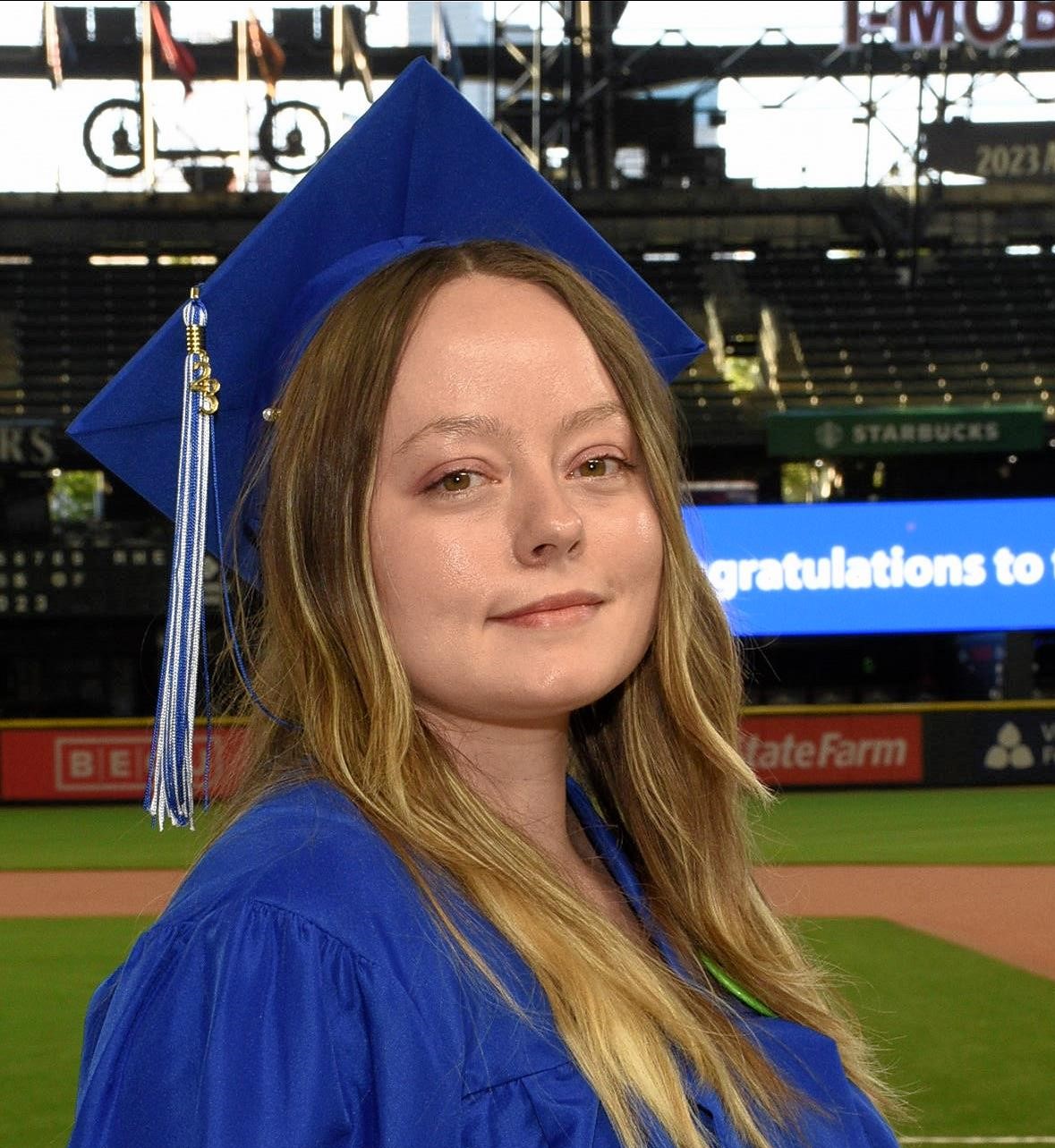 Q: When did you start at NSC?
A: Winter 2019.
Q: What are you studying and what award are you earning (degree, certificate, etc.)?
A: Studying Industrial & Systems Engineering, earned Associate of Science from NSC.
Q: What field would you like to go into?
A: Space Systems Engineering and/or Payload Operations
Q: Favorite class and/or favorite memory at NSC?
Favorite class: Chemistry 162 with Jackie Hong.
Favorite memory: 2022 Northwest Xtreme Rocketry Show when NSC Rocketry Club collaborated with Amur State University Rocketry Club in the successful launch of a Level 3 Formula-150 high-powered rocket with a functioning GPS-tracking payload.
Q: Why NSC?
A: Its convenient location got me in the door, but the rocketry club and the Ready Set Transfer program kept me here.
Q: Did you utilize any student support services at NSC?
A: The Ready Set Transfer scholarship and my advisor for that program, Ann Murkowski, helped me with funding and extracurricular opportunities.
Q: Boundaries/obstacles/challenges that you've overcome?
A: I had to work full time the first 3.5 years while I took night classes. Learning how to study for these challenging courses while working 40 hours per week was challenging. In addition, after my first year at NSC, I learned that I have an autoimmune disease and ADHD. These diagnoses drastically impacted my educational progress.
Q: Where do you draw your inspiration from?
A: My family and friends, who are all successful in either their professional or personal lives, have inspired and encouraged me to persevere. My mentor and rocketry advisor, Tracy Furutani, has always motivated me to face failure as an opportunity. My parents, who both pursued their degrees later in life showed me that chasing your dreams at your own pace is commendable. Finally, my partner who is a successful, self-taught web developer.
Q: Why is getting a higher education important to you?
A: While getting a degree is necessary to become an engineer, I began pursuing a higher education as a means of finding a career field that would engage my passion for applied science and mathematics. Along with these opportunities, I have learned that contributing to a supportive community is vital to academic success. I am grateful to have had the opportunity to be NSC Rocketry Club President this past year.
Q: What's next after NSC?
A: I am currently in the process of completing NASA's Community College Aerospace Scholars (NCAS) program, which will end with an on-site experience at Armstrong Flight Research Center. During my summer break, I will spend time with my family, friends, and the rocketry community before starting at the University of Washington this upcoming Fall. I will be focusing on my courses at university during the 2023-2024 school year. However, during my senior year I hope to find an internship at NASA and
contribute to the Institute of Industrial & Systems Engineers (IISE) at UW.
Q: Anything else you'd like to share?
A: I would like to encourage other students to keep working toward their dreams, no matter how unrealistic they might sound. Four years ago, I didn't want to tell anyone that I was trying to get into engineering because I was worried that I wouldn't make it to where I am now. Don't do what I did back then… tell people. You will get encouragement and support from the most unexpected places. Allow the excitement and belief of others to fuel your drive. Find a community and share your dreams with them, they will
understand you and find ways to lift you up.