Family Connectors University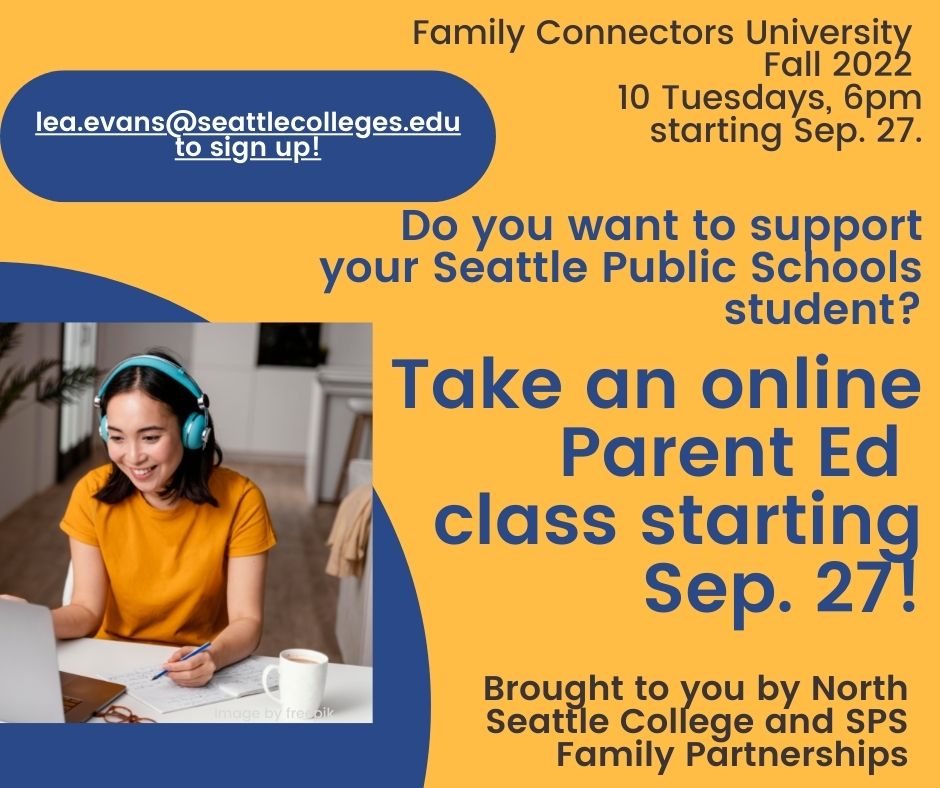 Fantastic Opportunity for Families: Family Connectors University
Seattle Public Schools families are invited to join North Seattle College's Family Connectors University class, a family-focused online course designed to help parents support their child's learning and growth.  
The class takes place Tuesday evenings online via Zoom for 10 weeks beginning Sept. 27 at 6 p.m. Parents can participate synchronously or asynchronously, as sessions will be recorded. Take this course in real-time or attend offline at a time that works for you. The cost for the 2-unit class is $35.74 and scholarships are available.
In partnership with North Seattle College and SPS Family Partnerships Department, topics may include:
Helping your child with learning
Social Emotional Learning
Becoming a supportive partner at your school
Talking to kids about visible and invisible disability
Helping your child with 'big emotions'
Supporting your child with reading and math
Talking to kids about race, racism, and antiracist actions
And more, always adapted to family interests
The course is facilitated by NSC Parent Education Instructor Lea Evans, Queen Anne Principal Janine Roy, SPS Family Partnerships Coordinator Asosa Sailiai, and special guest speakers.
Participants report that the curriculum has been immensely helpful to families:
"The Family Connectors University class was a wealth of practical ideas, and definitely worth the time investment!"
"…the conversations about self-care, supporting our kids' social emotional growth, dealing with "big feelings" and recommendations on supporting reading and math were fantastic."
"Implementing just a few of these ideas brought the pressure level in our 'locked-down' household from a 9 to a 2."
"I loved the chance to have one hour to myself each week to get ideas for helping my child and talk with other parents."
Email Lea at lea.evans@seattlecolleges.edu to enroll or find out more info. Check out video here and learn more about the course details at Family Connectors University.