New Computer Lab and IT Help Desk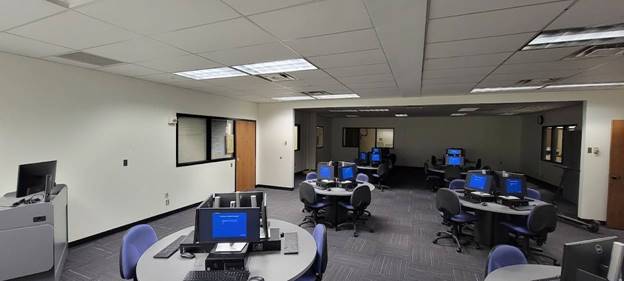 A brand new Title III Computer Lab and IT Help desk is open winter quarter for student use. The lab is located in CC 1353A and is open Tuesdays, Wednesdays and Thursdays from 10 a.m. to 2 p.m. It is situated just north of the temporary Library, across the hall from the veterans' lounge and just south of the old Baxter Center (now study hall and Zoom Zone).
This lab will serve as a temporary library classroom while the library is under renovation as well as a student computer lab and IT Helpdesk when not in classroom use. After the temporary library moves back into its renovated space, the Title III Computer Lab and IT Helpdesk will continue to serve students in this centralized location as a computer lab and IT helpdesk with space for additional IT offices.
This project was funded by the Title III Strengthening Institutions Program Grant, a five year, $2.2 million grant by the Department of Education.
Features of the lab include:
32 student computers
One lecture (teaching) station
Office desk and computer for the lab administrator
IT support for students including software and hardware assistance
Coming soon: printer/scanner, white boards, and display monitors