Radke Recognized for 50 Years of Service to NSC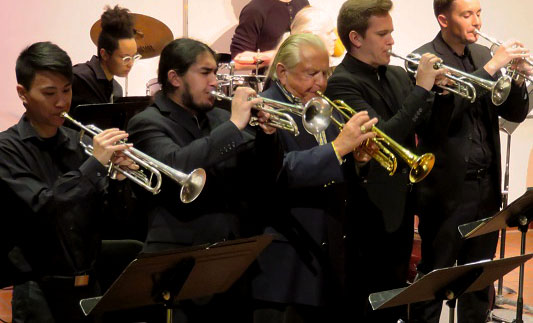 By Oralea Howard
Program Specialist, Continuing Education

Let's step back to the fall of 1970; the very first quarter students ventured onto the newly-constructed North Seattle College. No cell phones, no personal computers, no Zoom… and no music rooms! When Fred Radke came to campus as a founding member of the Music Program, there was no dedicated space for the program yet.
"We needed places to teach!" Radke remembers. "Well, we commandeered a restroom, draped it off, hung cardboard. We had rooms all over the college! We made a lecture hall into a concert hall."
This was a stark contrast to the venues Radke had been playing just months earlier. As lead trumpet player for the Harry James Band, he was performing in Las Vegas between international tours. But the life of a touring musician in the 1960s and 70s didn't easily align with having a young family. So, when his dear friend and the Chairman of the Humanities Division at North Seattle College, Dr. Stafford Miller, asked him to join the college and start the Jazz Department, Radke knew he'd found his long-term gig.
With construction of the campus just recently completed, it was the Music Program's turn to be built from the ground up. Radke knew exactly where things should begin. "We're new and we want to kick start this right away. Let's start with the band! We'll make it a community band." Radke worked his contacts and brought in some big names to start with a bang: Corky Corcoran on Tenor Sax (played with Harry James, Duke Ellington, Tommy Dorsey Orchestras); Bill Muncey on Alto Sax (world-famous hydroplane racer); Bob Barbey on Piano (accompanist for Gina Funes); among others.
"And so we start this band, and we really make an impact. The word gets out about this community band with some pretty heavy-duty musicians. All of a sudden, the students start coming, and they want to study."
At one point during his tenure with the Music Department, Radke was leading two big bands and four combos in which students could play alongside seasoned, professional musicians. The bands played arrangements written by Bill Muncey and other noted composers and arrangers like Sammy Nestico, Everett Longstreth, and Count Basie. Students learned phrasing and interpretation through performing the different types of arrangements while playing with experienced musicians.
"These were college bands but I ran them like professional bands," said Radke. "Teaching a band instills in the student what it's like to be a top performing professional musician, focusing on accuracy, appearance, and at a high-performance level, which is always apparent when performing a concert."
Radke continues his dedication to teaching and performing, conducting the community-based Jazz Ensemble offered through North Seattle College's Continuing Education program. Step back in time with this review of a 1976 Jazz Ensemble concert published in The Polaris. The Jazz Ensemble has performed at North Seattle College each quarter since 1970. And although COVID-19 required the band to take a brief intermission in 2020, Radke is hoping to be back together performing in the fall, depending on CDC and college safety guidelines.
"It's very exciting for younger people to connect with these musicians," said Ned Smith, Jazz Ensemble drummer since 2006. "A number of younger musicians who studied under Fred… came back to play with the band because they want to stay connected to him. He's constantly helping me, mentoring me… and I'm 40 years old! The ensemble is a funny mix of people. There are folks who've played with Stevie Wonder and Frank Sinatra sitting next to others still in college."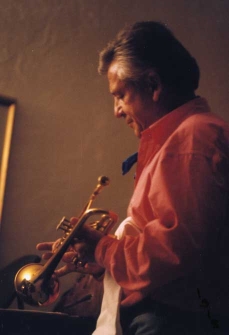 Radke's focus in teaching has always been sharing the passion of performing and a love of music while communicating what life can be like as a professional musician. "You have to be motivated. You have to have a passion for music. I've been playing the trumpet for 71 years, and I still practice three hours a day," said Radke. "I've always tried to pass that on to my students and that's what we did at North."
The North Seattle Jazz Ensemble's success is due in part to support from a grant that ensures the band will continue to thrive for the foreseeable future. Radke continues his 50-year teaching career with Continuing Education and has transitioned to a virtual classroom during the pandemic. A donation from Apex Foundation in 2020 has allowed Radke to expand the Jazz offerings to include Individual Trumpet Study with Radke, the Vocal Workshop with Gina Funes, and the History of Jazz where students can hear firsthand accounts of some of the most significant events in jazz. The funding that supports Jazz studies in Continuing Education includes student scholarships.
On the 25th Anniversary of North Seattle College, Radke and his wife, renowned singer Gina Funes, were recognized for outstanding achievements as teachers and fundraisers for North Seattle College. And now, on June 1, 2021, Fred Radke will be honored for his 50 years of service to North Seattle College as part of the 50th Anniversary celebration. Radke just keeps the hits coming!