Construction is underway for the Northgate Ped/Bike Bridge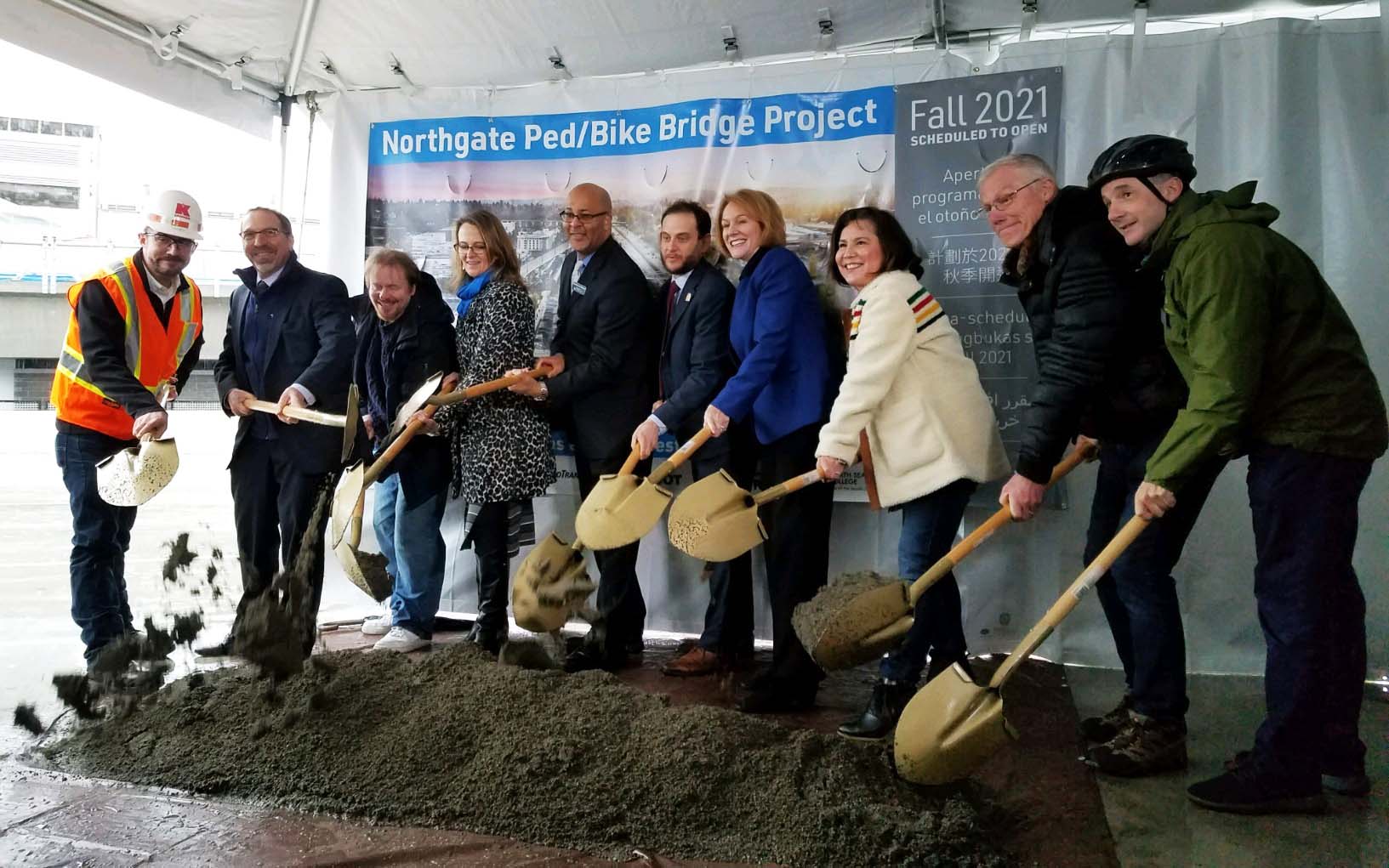 Getting to campus will become much easier for commuters, thanks to the Northgate Pedestrian and Bicycle Bridge. The bridge will span from the northeast corner of the North Seattle College campus and will connect to the Northgate Link Light Rail station, which is scheduled to open in fall of next year. The pedestrian bridge is also scheduled for completion in fall 2021.
"North Seattle College has thousands of students and staff that will benefit from the access that the Northgate Pedestrian and Bicycle Bridge and the light rail will provide," said North Seattle College President Dr. Warren Brown. "Without a doubt, this project is an educational lifeline for our students."
Construction is underway, and the official groundbreaking ceremony for the bridge was held last week. North Seattle College President Dr. Warren Brown joined Seattle Mayor Jenny Durkan, Councilmember Debora Juarez and other transit officials to celebrate the start of construction on the Northgate Pedestrian and Bicycle Bridge and the connections that the bridge will create for the North Seattle Community.
"Our City is under construction before our eyes and investments like light rail will be transformational for North Seattle. This bridge will be an important connection between the reimagined Northgate with light rail and North Seattle College, and will provide convenient and safe routes for pedestrians and bikers," said Mayor Durkan.
Currently, construction staging on the North Seattle College campus is restricted to an area on the north side of campus, which includes a limited number of parking spaces that are parallel to 100th St.
"We can expect minimal impact to our commuters in the area. Occupancy data at peak times demonstrates more than adequate space for all parkers utilizing the northern lots," said Christopher McDivit, NSC transportation coordinator.
For more information including construction updates and design renderings, visit the Seattle Department of Transportation site: www.seattle.gov/transportation/NorthgatePedBridge. This site is also linked on North Seattle College Parking & Transportation page: https://northseattle.edu/parking-transportation.