Students of Color Conference 2022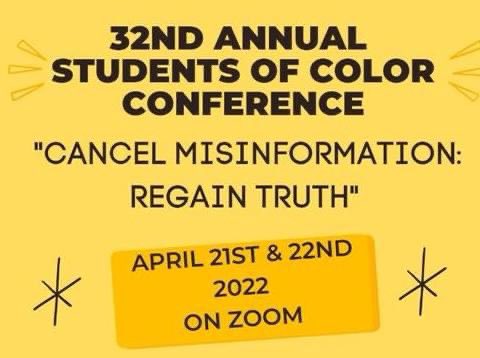 The 2022 Washington State Students of Color Conference will be held virtually April 21-22!  The goal of the conference is to support Washington State students to become more active proponents of their own education and life choices, and expand the opportunities and possibilities for students to become agents of change.
SOCC is a respected and amazing conference that centers the experience of BIPOC students in a community that promotes equity, diversity & inclusion!
Participating in SOCC is an excellent opportunity to have fun, make friends, develop your resume, and support your success in school.
Research shows that when students build relationships and belong to a community they are more likely to complete their program of study  
All registration costs, materials, and accommodations are provided through programs sponsored by Seattle Central College's Equity, Diversity, and Inclusion Department

Participation Requirements:
You must be enrolled at North Seattle College (Spring quarter of 2022) to participate.

You must write a paragraph (3 to 7 sentences) stating why you would like to attend the SOCC.

SOCC application must be submitted  by April 7th, 2022, no applications will be accepted after this date.

All students must attend a pre-conference info session- 
Fill out this application for registration or join an information session to learn more, ask questions and apply to attend the conference!
All Info. Sessions will meet in this Zoom Room on the following dates:
Tuesday, March 22: Noon - 1 p.m.
Thursday, April 7: Noon - 1 p.m.
FAQs
How much is the conference? FREE!
Who can attend the conference? ANYBODY! The conference will center the experiences of people of color, but all are welcomed and encouraged to attend!  
When is the conference? Thursday, April 21 and Friday April 22 (specific times will be shared at a later date).
Where is the conference? Online via Zoom.
Why should I attend? GREAT learning, INCREDIBLE workshops, FANTASTIC professional development!
How do I apply? Fill out this application for registration.