Great Shakeout 2019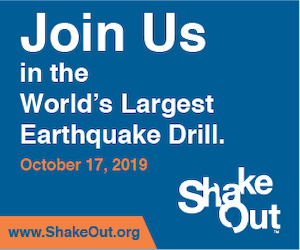 North Seattle College will participate in The Great Washington Shakeout Drill, a statewide opportunity to practice how to be safer during big earthquakes. On Thursday, Oct. 17 at approximately 10:17 a.m., an announcement will come over the PA system asking you to Drop Cover and HOLD. A RAVE emergency notification will also be sent to students and employees.
An overview of what to do during the drill can be found below. Please stay in the hold position until you receive an all-clear through the PA system or through RAVE alerts. Additionally, there will be no evacuation during this drill of any campus building, including OCE&E. Campus safety wardens will instead move through buildings to ensure employees and students are correctly participating in the drill.
This drill is also a good opportunity to review designated evacuation areas on campus. Please familiarize yourself with the evacuation maps in your work areas. Evacuation assembly points can also be found online. If you haven't yet done so, please also be sure that your account information is current with the Seattle College Alert system so that you can be notified via phone, text or email about emergencies or disruptions to campus.